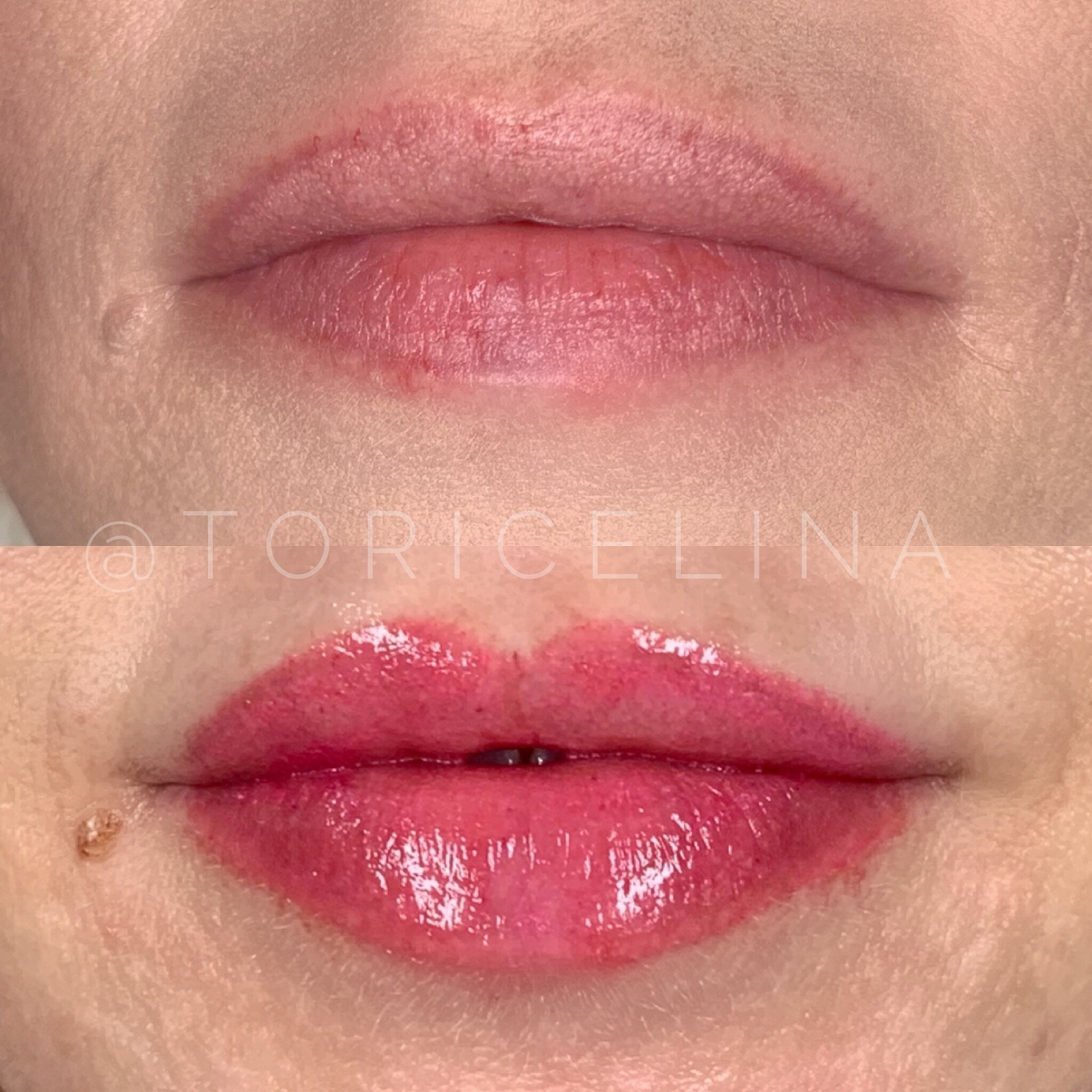 Lip blush it a form of cosmetic tattooing to enhance your natural lip color, shape and definition to create the illusion of a fuller lip. This is NOT a lipstick look.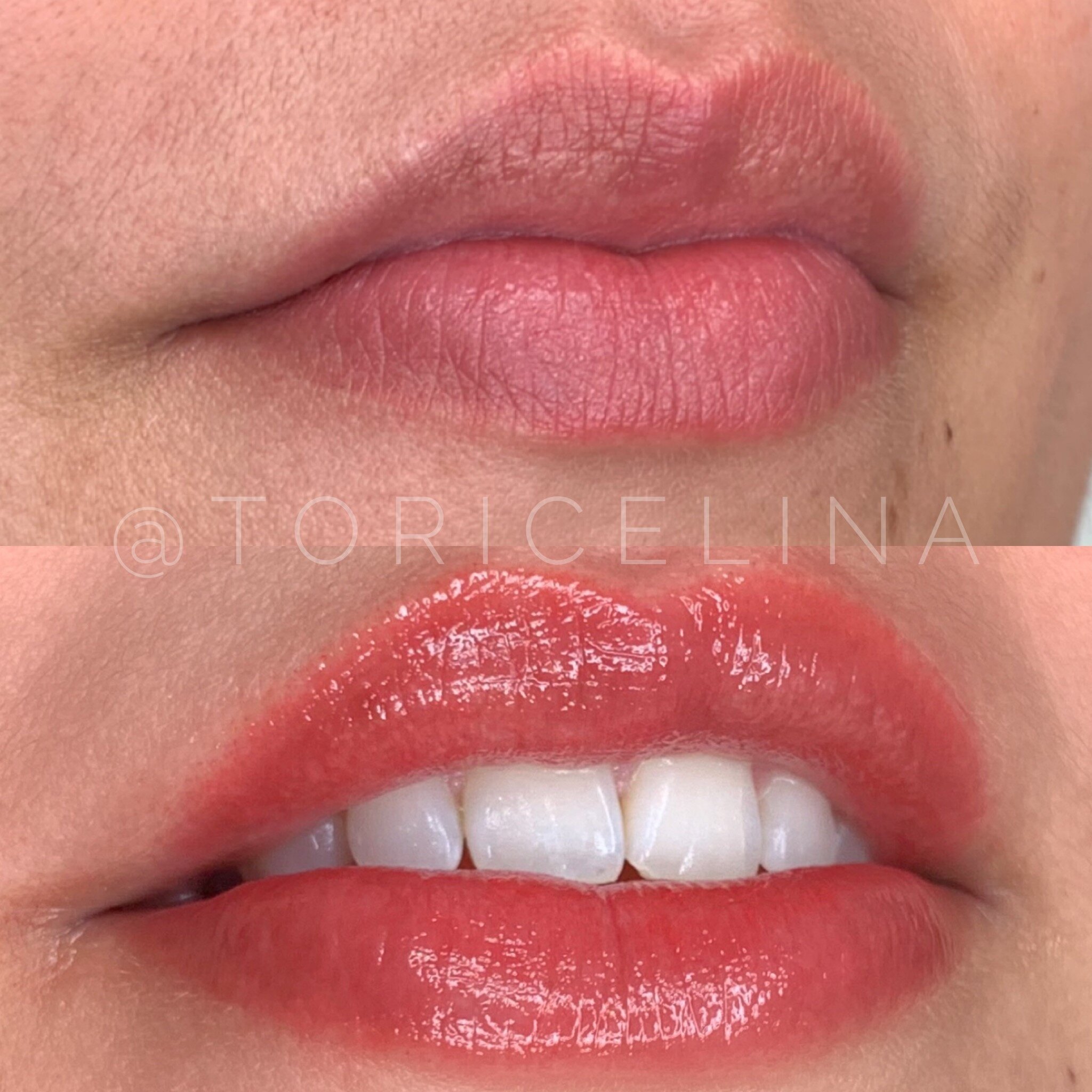 We use a 5% topical lidocaine before and throughout the procedure to keep you comfortable, most clients experience little to no pain but pain tolerance will vary.
HOW LONG DOES LIP BLUSH LAST? DOES A PERSONS NATURAL LIP COLOR HAVE ANY EFFECT ON THE PROCEDURE?
Lip blush can last anywhere from 2-5 years before needing a color refresh. For clients with underlying blue, purple, or brown tone within their lips we will careful choose a color to balance out those tones to ensure they heal a nice natural tone. In some cases with dark lips we will need to color correct with an orange modifier to first correct the dark hue and at our touch up session we will go in with our goal color. The natural lip tone and skin tone must always be considered to achieve a color appropriate for that client.
WHAT IF I WANT TO WEAR A DIFFERENT COLORED LIPSTICK?
The lip blush procedure will have no effect on your lipstick colors, this is NOT a lipstick look but a procedure to enhance your natural lip tone.
WILL I HAVE COLOR OPTIONS TO PICK FROM?
We offer a wide variety of colors and color combinations to give you your own perfect shade. We have a look book of all our most popular colors to help you get a better idea of what our colors look like on the lips immediately after and healed.
IS THERE ANYTHING I NEED TO DO PRIOR TO MY APPOINTMENT?
Prior to your appointment you will want to start hydrating drink lots of water and use lip balm. For clients with dry flakey lips please exfoliate a few days prior to your appointment, we recommend making a lip scrub with coconut oil and sugar. Clients must come in the day of your appointment with smooth hydrated lips to achieve the best results.
Contraindications
*Disclaimer
It is required that the client consult with their Physician prior to taking, altering or stopping any form of medication and/or supplements, or making changes to their dosing cycles etc.
Unfortunately, not everyone is a good fit for the lip blush procedure. They may have something (such as symptom or condition) that makes this procedure inadvisable.
The following is a list of contraindications for the lip blush treatment:
Under 18 years of age

Diabetes

Pregnant or lactating women

Glaucoma

Skin diseases such as psoriasis, eczema and undiagnosed rashes or blisters on the site that is to be treated

History of cold sores (if so, consult with your physician. Many clients avoid coldsore breakouts by taking a Valtrex cycle prior to their appointment.)

Allergies to makeup or colors

Easily triggered post inflammatory hyper pigmentation

Transmittable blood conditions like HIV or Hepatitis

Active skin cancer in the area to be tattooed

Hemophiliac

Healing disorders

Blood thinners (consult with your physician)

Uncontrolled high blood pressure or mitral valve disorder

Accutane or steroids (consult with your physician)